I have been composing seriously since about 1962. I was then at Marlborough College aged about 16 and discovered that I could write short piano and organ pieces with some facility and that I could persuade fellow musicians to attempt to play them. (Crispian Steele-Perkins was one.) Since then I have never stopped, although in the 80s the flow almost dried for a time, until the flute and piano piece 'Awakenings' (1993) which was a return to creative commitment.
Those early pieces have a strong tonal basis and reflect the musical discoveries I was making at the time, in particular the music of Stravinsky (I blew the speaker coil of my parent's radiogram through incessant loud playing of the Rite!), of Ravel (which I was exploring as a pianist), of Debussy and many others of their period. I was – and still am – totally captivated by the sound-world of these composers and particularly amazed by their use of the orchestra. I particularly recall the dazzling revelation of the Firebird, played at fairly close quarters by the Bournemouth Symphony Orchestra in the school's Memorial Hall.
Then I met Vernon Handley (Director of Music at Guildford, my home town) to whose positive musical influence I owe so much. He introduced me to British composers of this same period. I had already discovered the Ireland Piano Concerto and some Holst and Vaughan Williams, but was then plunged into the sensual world of Bax, Delius, Moeran and others, which suited my insatiable desire for passion and fantasy emerging from formal discipline. For a time Bax became an obsession and a touchstone by which I judged mine and all other music. As a result I achieved some expertise in the drama of sonata structures within a highly chromaticised tonal world (see an early Sonata for piano, the first and second Sonatas for cello).
Soundclip Cello Sonata 1 extract - [mp3, 1.50MB]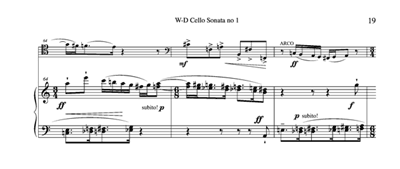 It took me a long time to expand my horizons beyond this early-20th century hot-house, Honegger's music being one of the sensations leading me to fresh pastures. It was at Cambridge University that I discovered him, through the amazing Supraphon recordings of his symphonies appearing in the late 60s.
Cambridge developed my love for the music of Schoenberg (I found myself playing the celesta part of the Five Orchestral Pieces op16 in my first term), which led to a passion for Berg and Webern and Bartók, and my musical response was to create progressively more dense orchestral scores, a useful exercise perhaps, but never to be heard or worth hearing, I suspect.
At this point I was a self-taught composer, by which I mean that my closed musical world prevented my tutors from being able to share anything with me or to help me to explore. It must have been depressing for Alan Ridout, the one I remember, with apologies. Nonetheless, the performance opportunities (conducting, piano and tuba-playing) that Cambridge offered, had their effect. I particularly remember the emergence of the music of Roberto Gerhard under the baton of David Atherton. Much more unfortunate was my unreadiness to take full advantage of a meeting with Benjamin Britten, who effectively offered to take me under his wing in my efforts at composition. My naïvete allowed me to squander this opportunity, to my lasting regret.
At York University the D Phil degree for which I was studying required a substantial portfolio for submission. With a facility such as mine quantity was no problem, but there I was made to confront people and sounds with priorities completely at odds with the safe musical world I had constructed for myself.
Cage and Cardew were in the air (and I had the pleasure of playing Morton Feldman's Durations III on my tuba in the company of the composer) and I found their philosophy extremely worrying. But it was a wake-up call and while I did not follow their path, it opened my mind to the world of many of my contemporaries. I have since learned to love passionately much music of the latter half of the century - Ligeti, Berio, Lutoslawski and Nancarrow spring particularly to mind. But not till later...
So I brought with me to Leicester University a more enquiring mind, and my music went (viewed in retrospect) through quite a turbulent phase over the next few years. I was looking for an intellectual approach that would place my wilder imaginings under some control. Serialism appeared occasionally, though never systematically (Organ Sonata no 2, Consort Music for Four Viols) and then an interest in change-ringing. I'm not sure how it happened, but I acquired a 17th-century book on this subject, the uniquely British system of ringing bells systematically which avoids the repetition of any changes through an entire peal. This generated a host of pieces, some referring directly and onomatopoeically to bells (Plain Hunt (1973) still unperformed, Tintinnalogia (solo piano, 1974) Bells (1977) a setting of a poem by Thomas Traherne) and many others with no overt justification for the technique (stonK (1974), Sir Gawain and the Green Knight (1977, 'errors' (1980). The Second Piano Trio (Rapunzel's Dream) was an offshoot of material destined for 'errors'.
soundclip Piano Trio no2 (1979) - [mp3, 1.16 MB]
In the chamber opera 'errors', as well as change-ringing being used in the short term, changes are used to generate a new note-row to characterise each of the ten scenes. These are arranged such that the greatest chaos in the narrative is accompanied by music based on a 10-note row furthest away from the row of scene one. As in change-ringing, the rows gradually cohere, to finish with the one with which the piece started, a striking characteristic of the Shakespeare play on which the opera is based. But neither singers nor audience for both operas ever knew this was going on!
An occasional piece I wrote for performance in Magdalene College in 1967 was 'musicollage'. It was requested to celebrate the work of past honorary fellows of the College (notably Pepys, Thomas Hardy and Rudyard Kipling). These strange bedfellows (!) provoked me into a quodlibet, where quotations from Pepys' songs through nursery rhymes to the Beatles jostled with each other in riotous affray (it introduced a rock band at the end). The current fellows were not a little amazed. In the 1980s, perhaps for different reasons, I returned to the possibilities of borrowed material in my music. This was nothing new (following the path of Berio's Sinfonia for example), but it is perhaps the response of a composer teaching academic music of the past and seeking some reconciliation with his own. This tendency has not yet left me, the poor soundproofing of the Royal Welsh College of Music and Drama, where I have taught for many years, being a constant provocation.
In about 1981 I was introduced to the music of Conlon Nancarrow, and, along with Ligeti, found it exhilarating and exciting. The response is in a number of pieces, most specifically the piano duet 'out of time' (1983) in which I explore the possibilities of simultaneous layers of music proceeding a differing paces. Where it is not usually practical to synchronise these layers as Nancarrow does, I continue to explore the area where and how I can.
out of time soundclip - [mp3, 1.20MB]
In the early 80s I had got to the point where my music was beginning to be recognised and commissioned about as often as I could cope with. A few examples are: a BBC commission for a string quartet, thanks to my friend and colleague Denis McCaldin, Summer Lightning (1981, for the Leicestershire Schools Symphony Orchestra), Wycliffe (1984) a musical drama.
Throughout this time I had occasionally contributed to music for Christian congregational worship, responding to my various posts as church organist and director of music groups. In about 1986 domestic and personal crises overtook me. Clearly I am not good at being creative in adverse circumstances and I fell silent, apart from a few continuing pieces for Christian worship.
A reading of Oliver Sacks suggested to me the title 'Awakenings' for a piece for flute and piano (1993), but it turned out to be the beginning of a personal awakening, in a musical language a little less acerbic than before, with less reliance on the change-ringing of the 80s. This was followed by an increasing number of pieces reacting to or influenced by music of the 17th and 18th centuries. An interest in writing for early instruments intensified as I became more and more involved in that world as a performer.
Involvement with various instrumentalists has led to a number of chamber pieces, from 'Panjandrum' and 'Upagupta' (1995) settings of poems for flute alone, using extended techniques, to Quadro and Quinto, pieces specially for early instruments, but using contemporary techniques. More substantial commissions include a virtuoso work for ten-piece brass 'Three Hail Marys' (2004) for the RWCMD and most recently 'Neijal' (2006), a choral setting of words by Ifor ap Glyn which helped Cor Godre'r Garth win at the Eisteddfod Genedlaethol in summer 2006. A lsubstantial piano piece (Ahwak, 2007) awaits its first performance.
soundclip Broken Doll Consort (2004) - [mp3, 1.48 MB]
Almost complete retirement from the world of teaching has suddenly given me the opportunity to write and to play with the intensity that I have not known since university days. At the moment I am a little more cautious about committing my ideas to paper than I was in those days, but I have plenty of invitation to do so, for which I am extremely grateful.
I intend to create a complete list of compositions, but this is still work in progress. The music listed below is the majority of my work produced by the DTP program I adopted in 1992.
compositions and performances (from 1994) not including Christian musicals and Christian music for worship (see list under liturgical):


bis (2005) (2ob, fag, 2 tr, timps, str, hpschd) first perf Varazdin, Baroque Evenings Oct 2005



1'



Concerto grosso 'L'effet de serre' (Greenhouse Effect) (2006) (flute, vln, bassoon and baroque band) first perf. WBO


Blaen Myherin symphonic poem for orchestra (2009)

perf. BBCNOW 7'







Concerto for baroque flute and period instruments (2009)

first perf. WBO



Arcadia

for large orchestra (2011) unperf.* 15'



11'




Concerto for Recorder (2012) (multiple recorders, vln, vla, vc, cbass, gtr) first perf. DS Hall, RWCMD ded. Alice Baxter

10'




Concerto for Harpsichord and Strings (2011)

first perf. WBO. Original version for two cellos and hpschd, first performance Castres 2010


10'



Awakenings** (flute and piano) (1993)
perf Go West Festival, Vale of Glamorgan Festival, etc



10'




Chacony (two flutes and violin) (1994)



4'



Domen Milwyn (three viols and guitar) (1995)



4'



Panjandrum (solo concert, alto or bass flute) (1995)
perf York Late Music Festival, etc about 24 performances to date, 'brilliantly conceived and executed' - Western Mail 2.11.98)



4'






six (solo bass viol and reciter) (1996)



3'



enter no silence*

**

(1996) (soprano, guitar, bass viol) text E.E.Cummings, published British Contemporary Music Anthology



4'





simple harmonic motion (1996) (oboe, piano) ded. Victor Robinson, first perf RWCMD 2004



4'




Mechanical Rhetoric

**

(1997) for 2 clarinets and piano



8'




Iduneko

**

(1997) (violin and cello) 2001; a 'necklace' of 11 Basque melodies for string duo, first perf, York Late Music Festival, Lucy Waterhouse (vln), Paul Kellet (vc)



11'






Partita on a Basque melody

**

(baroque guitar, viols and violone) (1998)






4-play* (1998) music for solo suspended cymbal (4 players)



c6'




trompettes funérailles* (1999) (12 trumpets, drum) commissioned Phillip MacKenzie



4'




spanish trumpets* (1999) (12 trumpets), commissioned Phillip MacKenzie



5'




Four Villeneuve Frescoes

**

(two bass viols) (2000) premiere London RCM



12'




Four Villeneuve Frescoes* (version for 6 viols) commissioned by Fretwork



6'




Quadro 'Entwurff' (2000) (baroque vln, flute, bass viol, hpschd), perf Vale of Glam Festival



9'




Hoboy*

**

(2000) suite for solo [baroque] oboe, ded Anna Thackwray



6'




arias for harp*, (2000), unfinished



4'



two's company* (2 vln) (2000) ded. Oliver W-D



3'



upagupta

**

(2001) (solo flute, text Tagore) first perf Lynne Plowman, Machynlleth Arts Centre



7'




aimez-vous brahms? (violin and piano) (2002) short version first perf Lower Machen Festival June 2002, Madeleine Mitchell (vln), Andrew Ball (pf)



11'





aimez-vous brahms?*, (2002) long (original) version



c15
'


quinto (2002) (3 rec, vc/bass viol, hpschd) first perf RWCMD



6'




Tango Passacaglia* (after BWV 582, 2002) versions:
a. London version (vln, bandoneon, gtr, piano, bass, withdrawn)
b. PM version (fl, cl, vln, vc, piano)
c. version for vln and piano (2005)
d. version for flute and piano (2006)



6'






Fionnuala

**

(2003) (bass viol and hpschd) first perf Shaun Ng, Singapore



c8'




balrog

**

(tuba and piano) (2003) first perf Geraint Atherton



3'




digital sonata

**

(viola and digital piano) (2004/5), first perfs Philip Heyman (viola pomposa), Zoe Smith (dig piano) Chapter Arts Centre



12'





Flon-flon (2004), waltz for ensemble, ded Pauline and Juliette Adam

4'



Cowbridge Polyphony (2004) fanfare (4 tr, hn, 4 trb, tuba, opt perc)

2'



Three Hail Marys (2004) (4 tr, hn, 4 trb, tuba, opt perc) commissioned by RWCMD, first perf by RWCMD ten-piece brass, Nov 2004, pub BrassWind



11'





lovecrumbs (2004) (fl, cl, vln, vc, piano) settings of E.E.Cummings, first perf PM ens, York Late Music Festival, March 2004)
2 little whos, i like my body, lily has a rose [others projected]

8'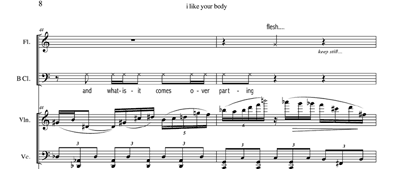 Swatch (2015) movements for trumpet and piano, published by Brasswind

Creatures of the Deep (2011) four mvts for tuba and piano, published by Brasswind



An eye for an eye, (1995) cantata for narrators and large ensemble



15'




enter no silence*

**

(1996) (sop, gtr, bass viol) text E E Cummings



3'




Paris (1998) dramatic cantata for actor, 4 singers, 4 fl, 4 cl, hn, trpt, trbn, kbd, 3 perc, str, first perf RWCMD 1998



c20'





In the Rhine Valley

**

(1997) (soprano, cello and piano) text Wendy Cope



4'




dry bones (2001) Spiritual, arr vln, accordion, piano, 3 vces; for the James sisters



3'




sliabh ma mban (2002) Irish f/s arranged mezzo and piano, perf: Sara Cletheroe, Richard Wiegold, AWD and others



4'





Three Songs of Stevie Smith* (2003) Come wed me, Si peu séduisante, Monsieur Pussy-cat, blackmailer (mezzo, piano, clarinet, version with piano only)



7'




Divisions on a Foxtrot (2004) (soprano, treble viol, lute, organ) commissioned by Charivari Agréable, first perf, Slovenia Summer 2004



c4'





The fox (2005) (sop, baroque ob, bass viol, hpschd) text Elinor Kapp, comm. Sophia McKenna, also version for modern instrs



12'




Three Songs of Spam (2007) (sop, clarinet, 'cello, version for sop, piano) text from the internet, comm. Sara Cletheroe, first perf Birmingham Custard Factory



15'



Machen Forge (2016) commissioned by the Lower Machen Festival, première June 2016. For children's choir, adult choir, string orchestra, horn, timps, organ and toy piano


2

20'

Iduneko (2016) version of chamber duo of same title for string orchestra, première 19th Nov 2016, St Gallen, Switzerland


12'
Good morning Jesus

**

(1984/1999) (4 sop, 4 alto, for Vivace Singers)



3'




Huna blentyn (1998) (Welsh f/s arr SATB unacc) pub Griffiths



3'




Do. (eight female voices) (1999) premiere, London, Stoke Newington Festival 1999



3'




Psalm 29

**

(1999) SATB unacc with divs, Bournemouth-Parry Festival prize 1999, first perf. Bournemouth Fest Chorus.



4'





non unus color (1999) text Quintilian, (SSATB unacc), commissioned Phillip MacKenzie, perf Holland?



c4'




four unaccompanied chorusses*

**

to words by E.E.Cummings: springtime, o moon, little man (2000), now i lay (1990)



c10'





Sweet Dreams* (2001) SATB unacc, text William Blake



3'




Neijal (2006) 4-6-part chorus, text (Welsh) Ifor ap Glyn, commissioned Cor Godre'r Garth

St Mark Passion (completion of JS Bach's setting of 1731), to be published by Canasg 2016

Karuna (2014) premiere, Cardiff





6'
140'

80'



Angel Train

**

(1976) prelude on 'Camberwell'



c6'



Prelude on 'Richmond' (1976)



2'



10'



Briar and Myrtle (1985)



3'



Dies Ludorum (1993)



6'



Russian Midsummer (1999), Radio 4, June '99)



3'



Three Toccatas on Basque melodies (1997, unfinished)

c10'


bagatelle (solo piano) (1998), commissioned and premiered by Julian Jacobson, London 1999


Alpha Lyrae solo piano (2011) 6'