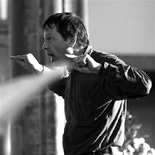 My first conducting experience (apart from amateurish efforts at school) was a performance of the Mozart Requiem in Riverhead (Sevenoaks) with a local choir and orchestra at the age of 18. The vague memories of this frighten me, but I was taken up as the conductor for the CUMS Second Orchestra at Cambridge and then as the Assistant Conductor to David Willcocks with the First Orchestra. I also conducted the Music Society Orchestra and a number of other bands and choirs. This activity continued intensively at York, where I conducted the Micklegate Singers and various ensembles in the University, including its Orchestra at times.
At Leicester I shared responsibility for the large choir and orchestra and formed and directed a flexible chamber orchestra called Proteus (which still exists?). I have conducted a certain amount at the RWCMD, but this became more and more confined to early music – there being too many other rivals in the other areas. However, during my time in Wales I was in charge of the Brandon Hill Singers for five years, and the memories there of such pieces as the Rachmaninoff Vespers and Honegger Le Roi David are vivid and satisifying. The cumulative effect of this experience is a confidence in being able to give players the guidance they need (and to have a clear raison d'être for the style of performance) in a wide repertoire, from baroque period music to Varèse or Stravinsky. I am also well used to galvanising large choirs into delivering what they never knew they were capable of.
As far as early scores and ensembles are concerned, where possible I direct from the keyboard. This is the scenario to which the Welsh Baroque Orchestra is well used (how we worked, for instance, in Croatia, even with the fairly large score of Handel's Hercules). At the moment I direct the Welsh Camerata which was formed to tackle music from the fairly distant past, and in October 06 I directed a concert for the Bristol Camerata in St Mary Redcliffe, with the possibility of more to follow.